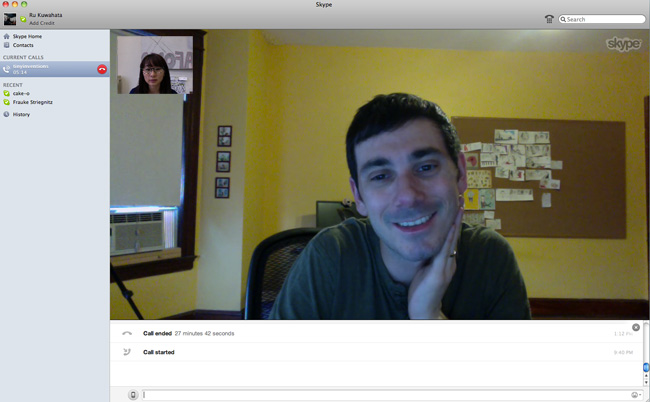 Max is living in Baltimore ( he's a full-time animation professor at Maryland Institute College of Art) and I am still in the Netherlands working at NIAF
How do we work with a huge ocean in between us?
We've designed our production so that during the 4 months of being separated, everything could be done digitally. Max has been modeling & texturing the remaining characters, and he edits animated shots that I finish into the animatic. I've been animating characters in Cinema 4D (3D computer program).
There is no set building, stop-motion or compositing which requires both of us to be in the same studio.
Luckily, we live in a digital age where files can be shared easily via internet.
Here is a glimpse of how we organize making a film from separate places.


We use SKYPE and DROPBOX. You can share folders and files on dropbox so we basically upload everything we do there.
When there is 200 + shots, there are a lot of files to share. Project files, hardware render movies, edit movies, full-render files, updated animatic, etc.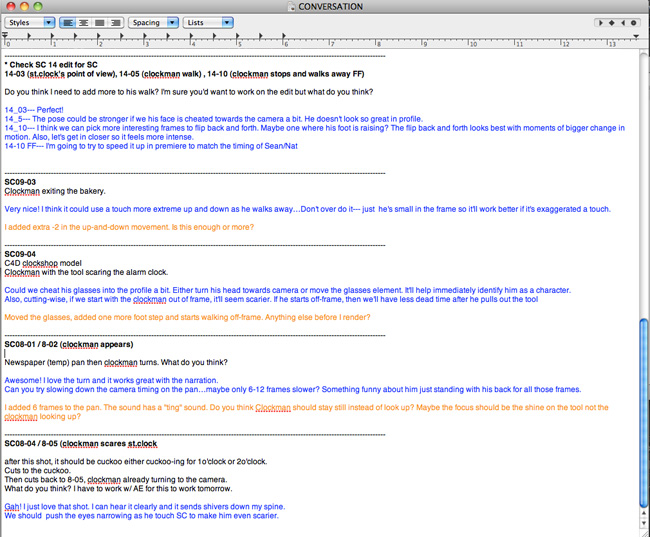 1) CONVERSATION
This serves as a way to converse about each shot.
Max is blue and I am orange.
With each shot, a lot of back-and-forth comments are written. When I am done animating, I usually have some questions and Max will have some answers and also some fixes. Once the cut is in the edit, more likely there are additional fixes.
Most often, there are 5-10 shots in progress. Some in early stages and some in late stages for minor tweaks. It gets confusing with all the shot numbers. When the shot is completed then it's deleted from the list, therefore there are only work-in-progress shots are listed on the "conversation".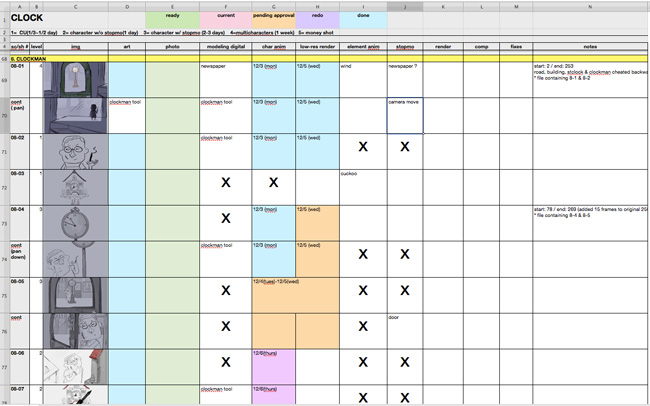 2) PRODUCTION BINDER
This is something we've used in every production.
Each shot is marked with the difficulty of the shot, schedule and stages of the production in color.
green=ready
pink= current
orange= pending approval (from eachother)
purple =redo
blue=done
Also, there's a section to keep notes of the start and end frame numbers and things to remember for stop-mo or compositing like "keep the oven door open."
When you have over 200 shots in a production, you do need to organize each shot clearly for everybody to understand immediately.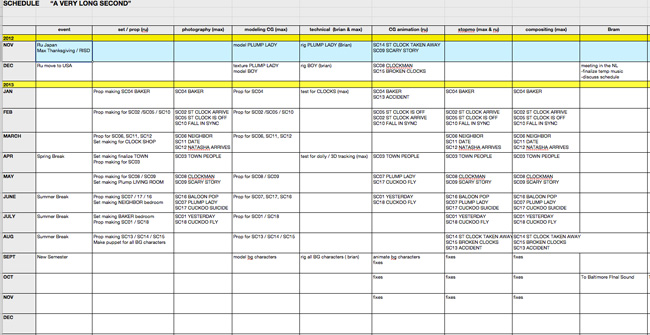 3) SCHEDULE
Organized by category and month. This changes often, but it's good to know the deadline for each month and for the project. With a project that takes over 2 years, it's easy to forget how important each day can be. Once you fall behind, the production can be delayed 3-6 months. Knowing the overall schedule, we are able to push ourselves to finish everything on the list.
4) MAX FOLDER / RU FOLDER
This is simple, I upload all files for Max to review in "To Max" folder. He does the same in "To Ru" folder.
First thing in the morning, we check our folders and read "Conversation" to understand what the next step is for the day.
This system worked out much better than we thought.
by

5 Comments