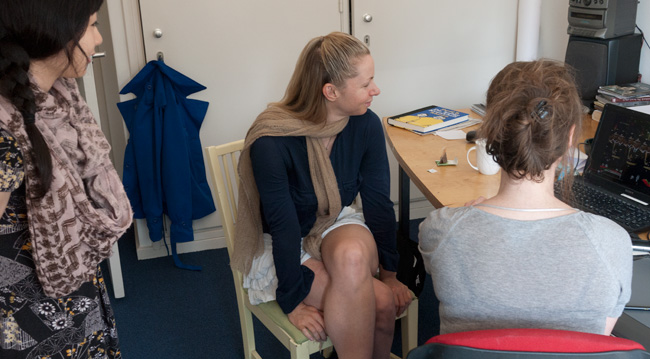 A few weeks ago, NIAF invited Peta Ridley, a documentary / commercial editor from London, UK.
Check out "Skateistan" directed by Orlando Von Einsiedel, edited by Peta Ridley.

SKATEISTAN: TO LIVE AND SKATE KABUL from Diesel New Voices on Vimeo.
I met Peta at Abu Dhabi Film Festival last fall and I thought her editing style was really cool.
Animators are notorious for not being able to edit down their films. When you spend days and days animating a few seconds, it's extremely difficult to say "this shot is unnecessary."
Peta works mostly with documentaries, which is opposite work flow than animation.
With animation, when the animatic is done, the editing is 90% there. (At this point, I feel like I completed the film.)
With documentary, there are hours of footage and the editor has to assembled them to tell the story at the end.
So I was interested to see what Peta's expertise can bring to animated films.
Thank you NIAF for making my request happen.
After 3 hours of figuring out the animatic together, we basically had a full day of editing together.
What a learning experience that was. I love having professionals from different discipline come for guidance. It opens up another depth into film making.
Thank you Peta for the visit!
by

No Comments :(